conseil
Plancha : what are the advantages of a stainless steel plate?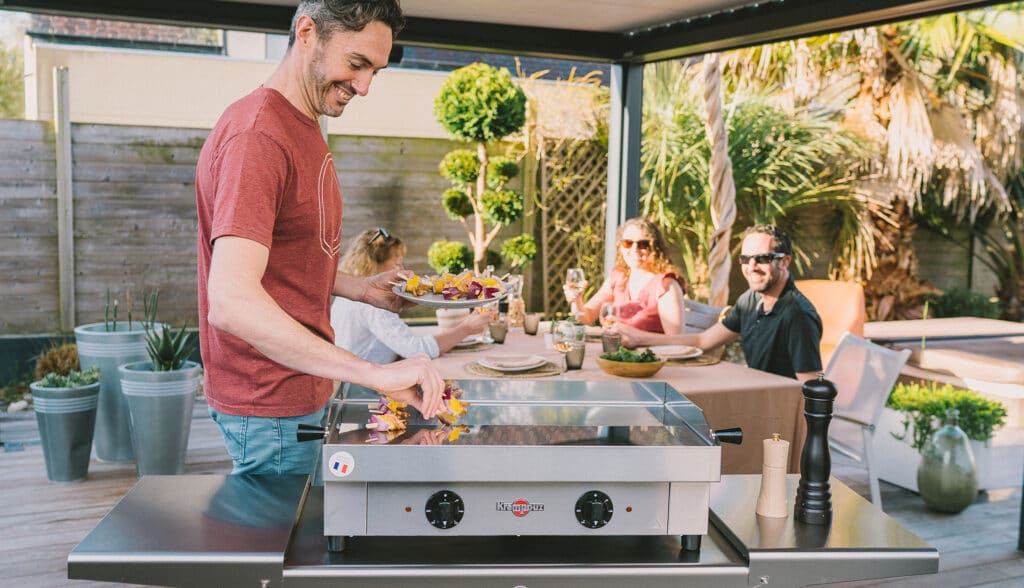 "Plug in and cook. The stainless steel griddle is easy to use and can be used to prepare a wide variety of foods. With its growing success and its many advantages, it is an invitation to outdoor gastronomy, healthy and friendly.
The plancha lets you sear and cook food at very high temperature, which bring out all the flavours whilst also limiting or eliminating the need to add fat. This healthy and nutritional way to cook is growing in success and popularity thanks to its simplicity and the variety of meals you can prepare. Being synonymous with entertaining and outdoor dining, these days, the plancha is truly a way of life.
Krampouz designs and manufactures planchas for domestic use with a stainless steel plate. This material is popular with catering professionals and offers many advantages for cooking and cleaning.
Stainless steel planchas : excellent cooking performance and precise temperature control
The combination of an all-stainless steel cooking plate and a heat conducting material on Krampouz planchas is your guarantee of quick preheating and excellent heat distribution.
This unique feature of the stainless steel plancha allows it to preheat quickly (time to reach 250 °C: 8 minutes for gas planchas, 12 minutes for electric planchas), whilst also consuming less energy than a plancha with a cast iron plate. Gas planchas are fitted with stainless steel burners in a U-formation that are positioned as close as possible to the cooking plate, for even heat distribution and unrivalled grilling performance.
Being more inert than other materials, stainless steel offers more responsive adjustments in cooking temperature. Such responsiveness guarantees precision cooking and highly precise temperature control: adjust the thermostat (on electric models and the K-range), and the plate will almost instantly translate this increase or decrease in temperature. This technical feature also makes it possible to separate the different cooking temperatures on models fitted with two distinct cooking zones.
Find out more: article "Electric plancha or gas plancha? »
Stainless steel – the choice of catering professionals
Stainless steel is a very safe material that offers a hygienic cooking surface that is easy to clean. This material is particularly valued by professional chefs due to the cooking performance it provides: precision, speed of use, no added fat; And also for its hygienic properties. It is non-porous and does not absorb stains, odours or bacteria. This lets you cook on the same appliance from the starter to the dessert, without any transfer of taste.
As a manufacturer of precision cooking appliances for professionals, Krampouz has adapted this know-how to offer domestic consumers equipment that is reliable and efficient.
Stainless steel, a robust material
The stainless steel plate used on our planchas is not afraid of impacts (dropped kitchen utensils) nor of abrupt temperature changes (thermal shock). That property makes stainless steel an extremely robust material that ensures the durability of your cooking appliance.
To keep them looking like new, you should clean the plate and the frame with clean water to remove any residue.
Krampouz electric planchas are designed for indoor and outdoor use and are weather-resistant. We do, however, recommend that you store your appliance in a dry, sheltered place, protected with a cover to preserve the stainless steel shine.
Stainless steel plancha : quick and easy to clean
Stainless steel is a raw material that needs little maintenance and does not require the use of chemicals. Immediately after use, use a spatula to clear the plate of any food remnants. Deglaze the plate with cold water or ice cubes to lift off any cooking juices. Then all you have to do is rub a stainless steel scrubber or abrasive pad over the moist, lukewarm plate to clean it, and then rinse the cooking surface and plancha frame with clean water.