conseil
Gas or electric plancha?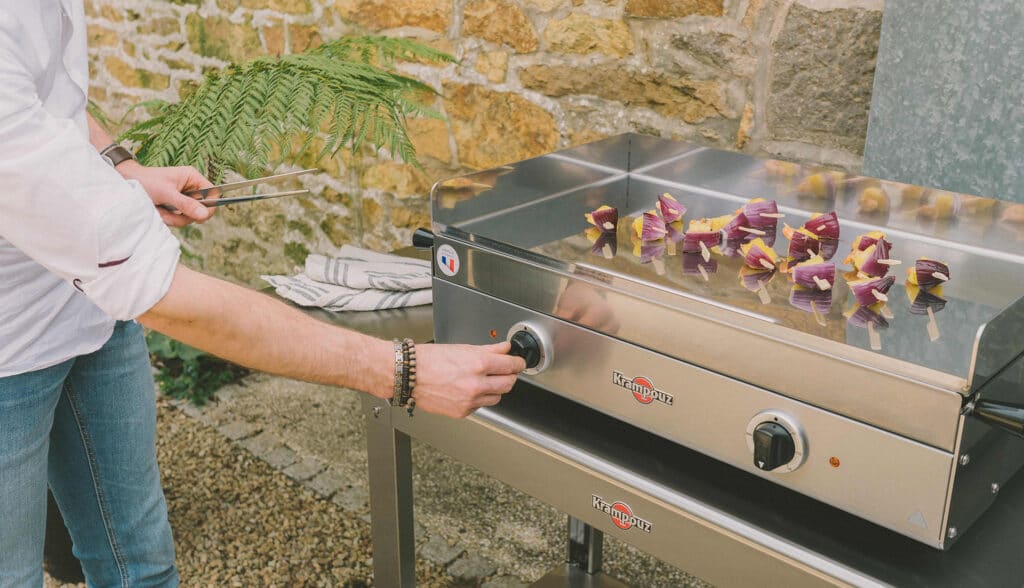 So simple to master, a plancha griddle is a great way to cook healthy and varied cuisine without adding fat. Meat, fish, vegetables, and fruit, are all great on the grill and the taste is locked in. To help you choose the best appliance for you, ask yourself the right questions. Including the power source: should you go for a gas plancha or an electric plancha? Make the right decision by reading about the specific features of gas and electricity to find the stainless steel plancha that meets your needs.
Why choose a gas plancha?
Mobile gas plancha for outdoor use
Gas planchas – butane or propane – are ideal for outdoor entertaining A relaxed and unrestricted way to cook – there is very little smoke off a plancha – allowing you to enjoy your garden or outdoor space as soon as good weather arrives.
With a gas cylinder supply, the plancha goes wherever you go! For added convenience, there is a cart for easier transportation of the plancha and the gas cylinder.
Gas operated planchas are intended for outdoor use. For your total safety, Krampouz has fitted its planchas (except the Samba model) with a safety system that will cut off the gas supply if the flame goes out.
A gas plancha that preheats quickly
Thanks to a higher heating output and faster preheating than an electric plancha (8 minutes to reach 250 °C), gas-operated planchas are ideal for searing and grilling food with no added fat: Meat, vegetables, etc.
However, manual control of the temperature on a gas plancha does make it more difficult to master the cooking: it is more aimed at experienced cooks.
One or two cooking zones on the gas plancha
The number of burners is the same as the number of cooking zones: one or two depending on the model, so you can cook several foods at the same time. Thanks to stainless steel burners in a U-formation positioned as close as possible to the cooking plate, Krampouz gas planchas guarantee even heat distribution and unrivalled grilling performance.
K Gas Plancha: The performance of gas with the precision of electric
To enjoy the advantages of a gas plancha whilst controlling the cooking temperature, the K gas plancha features automatic temperature control and two adjustable thermostats up to 300 °C.
i > What is–automatic temperature control? Manually adjusting the flame is a thing of the past! Simply select the desired heating temperature and the plancha will automatically maintain this temperature throughout the cooking process.
Why choose an electric plancha?
Electric plancha for indoor and outdoor use
Weather looking good for outdoor dining? Then simply plug your electric plancha into a power socket and get cooking. The hassle of having to buy and transport a gas cylinder or a bag of charcoal are a distant memory.
Thanks to IPX4 certification, Krampouz electric planchas are suitable for indoor and outdoor use. Indoors, we advise positioning the plancha underneath an extraction hood to reduce cooking smells.
Easily control the temperature with an electric plancha
The electric plancha is very easy to use and has one or two dials to adjust the thermostats up to 300 °C, depending on the number of cooking zones. Choose a model that lets you to simultaneously cook one or more foods depending on how you usually cook and on the number of guests you have over. Electric planchas preheat fast, you should allow 12 minutes for the griddle to reach 250 °C. Thanks to easily controlled temperature, the precision cooking demonstrated by the greatest chefs will no longer be a mystery to you !
Summary: differences between gas planchas and electric planchas
| | GAS | ELECTRIC |
| --- | --- | --- |
| Indoor and outdoor use | Outdoor use only. | Indoor and outdoor use : the griddle is splash-proof and IPX4-rated. |
| Quick preheating | Quick preheating to 250°C in 8min | Time to preheat to 250°C = 12min |
| High precision cooking | Manual temperature control (not available on the K plancha which features automatic temperature control). | Very precise temperature control thanks to adjustable thermostats. |
| Mobility | Use the plancha wherever you want. | Requires a nearby electrical power source. |